Battery Replacement
Issue: Battery runs out fast or doesn't work
Causes:Constant usage and impact
Solution:Replace battery
Parts:Only original and brand new
Repair time:1-3 hours
Warranty:6 months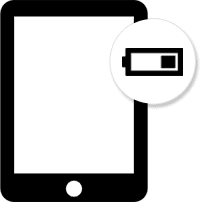 | | | Mini 3 | Mini 2 | Mini 1 | Air 2 | Air 1 | 4 | 3 | 2 | 1 |
| --- | --- | --- | --- | --- | --- | --- | --- | --- | --- | --- |
| | Battery Replacement Prices | Dhs325 | Dhs325 | Dhs325 | Dhs475 | Dhs325 | Dhs305 | Dhs305 | Dhs305 | Dhs310 |
Batteries do fail over time with iPad's. Yes, it's a long-lasting battery, but these batteries do degrade the more you use your iPad. We will replace your iPad and ensure it is able to get the same battery life as when you first bought it. Don't worry about charging your iPad repeatedly. Instead, get an instant iPad battery refresh.
iPad Battery Replacement Dubai
One of the advantages of owning an iPad is that it uses cutting-edge technology to improve battery life beyond that of earlier versions. This is ideal for folks who use their iPad throughout the day for school or work. Nevertheless, after years of consistent use or abuse, battery life can begin to diminish.
If you intend to maintain your iPad for an extended period of time, you will need to replace the battery. Fortunately, Guardianz offers superior iPad battery replacement services in Dubai.
The majority of our installations take between two and three hours, so you can drop it off and pick it up on the same day if you choose.
A depleted iPad battery should not prevent you from maximizing your iPad's capabilities. Allow Guardianz to replace it so that you can utilize your iPad to its full capacity.
Guardianz IT Services is a leading provider of iPad repair services in Dubai. We offer a wide range of repair services for all iPad models, including iPad screen repair, iPad battery replacement, and software repairs. Our team of certified technicians has years of experience in repairing iPads and uses only genuine Apple parts to ensure the best possible outcome for our clients.
At Guardianz IT Services, we understand that a damaged iPad can be a significant inconvenience for both personal and business use. That's why we offer quick and reliable iPad repair services that get you back to using your device as soon as possible. Our iPad repair services are affordable, and we provide a warranty on all our repairs to ensure your peace of mind.
Whether you need an iPad screen replacement, iPad battery replacement, or any other iPad repair services, Guardianz IT Services is here to help. We are committed to providing exceptional customer service and ensuring that our clients are satisfied with our services. Contact us today for all your iPad repair needs in Dubai, and let us help you get your iPad back in excellent working condition.
How do I know if I need to change the iPad's battery?
How to tell when a battery needs to be replaced is one of the most common questions we get at Guardianz. Even if the battery dies, most iPads don't stop working because of that. You should search for a quicker power consumption rate and shorter battery life. Even though this may be hard to figure out because different apps use different amounts of power, you should be able to tell if the performance is different. On several of the more recent iPads, there is an option in the settings menu that notifies you if your battery requires replacement.
What causes iPad battery degradation?
Another major concern with iPad batteries is what causes them to deteriorate. There are numerous variables that can cause an iPad's battery to degrade prematurely. Obviously, utilization will be the initial one. If you use your iPad all day, every day, the amount of time your screen is on and the frequency with which you must charge it will accelerate the battery's depletion. Other factors that can reduce battery life include heat, injury, and extreme cold.
Which iPad models are serviced?
When it comes to replacing iPad batteries, we work on all models, from the iPad 2 to the most recent. Our highly trained specialists learn how to repair the latest iPads as soon as they are released so that they can better assist the customers who purchased them. This gives our team more knowledge and makes us a one-stop shop for fixing almost any iPad.